Click to buy http://www.e-xport.net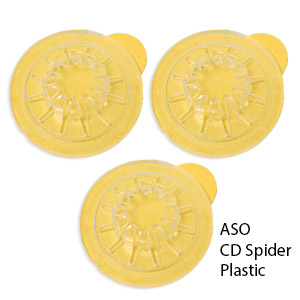 Plastic Spider Hubs (CD Clips) with Self-Adhesive Back.
Self-adhesive plastic spider hubs (CD Clips, dvd clips) which will stick to printed material and hold the center hole of any size CD/DVD.
Stick them onto magazines, books, reports, etc. Stick them to anything you wish and then insert your CD/DVD!
Similar to the classic jewel case attachment
Stylish clear plastic DVD/CD spider
Precision manufactured
Self adhesive backing on all CD centres
Convenient pack sizes
---
Tags: CD Spider cd clips cd button, dvd clips