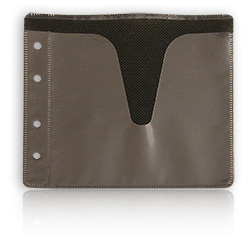 Plastic CD/DVD sleeve (envelope) for your file and folders... For 2 CD. It's that simple... Black and white option.
CD/DVD Sleeves (CD/DVD envelopes) are used to insert CDs/DVDs to your files and folders. It is very practical.
It is ideal for attaching CDs or DVDs to media files, product files, catalogues. For 2 CD or DVD. Call us and we deliver the product to your door.

CD/DVD Sleeve
Size 130 x 135 mm
file, folders hole...
| | |
| --- | --- |
| | |
| | |
| | . |
| | |
| | |
---

Tags: PVC CD sleeve self adhesive cd and dvd envelope, plastic pvc transparent cd sleeves, catalogue sleeve