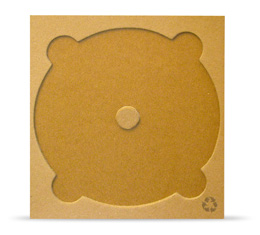 The PaperFoam CD DVD tray is acknowledged as the first successful environmentally-friendly alternative to plastic. The package is composed of 100% recycled and recyclable materials.
Basic Product Information:
Size: 13x13,8 mm
100% biodegradable and recyclable with paper
CO22 emission significantly lower compared to plastic
Less energy consumption to produce
Carbon-Friendly Packaging
Standard-size products with a long product lifetime
Reduced weight equals reduced shipping costs
For price please contact.
---
Tags: eco cd tray, natural dvd tray, enviromentally friendly , paper, cardboard, paperboard cd tray