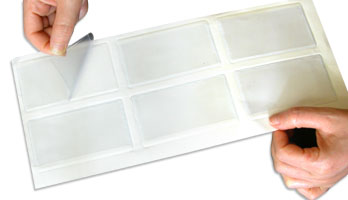 Self adhesive transparent plastic business card pocket is a practical and convenient product that can be used in files, brochures, hard covers or many other places where you want to attach your business card. It is available in semi-transparent and transparent versions.
Thanks to its sticker form, it is very easy to remove from the holder and attach to files, catalogues and many more. It is available as half cut it its holder. Hold and remove it from the corner and easily attach to binders, files, catalogues, brochures and many more. Please contact us by calling the following numbers for your orders.
Self Adhesive Name Card Pocket
For file, folder, catalogue, broshure etc.
Size: 10 x 5,5 cm
Back Self adhessive (sticker)
180 micron PVC or 100 micron CPP material
Color Options
Transparent or semi transparent
| | |
| --- | --- |
| | Plastic business card holders are self adhesive stickers. It is very convenient to remove from holder and attach to files, catalogues, etc. 180 micron PVC material. |
| | |
| | You can attach the transparent plastic business card holder to the front cover of your catalogues. You may order your product catalogue or file with these business card holders. So, when your sales representatives present catalogues to your customers, they also be able to attach their own business cards on the catalogues. 180 micron PVC material. |
| | New: 100 micron CPP material, back self adhesive. |
Our company also produces plastic sticker file-folder pocket, plastic sticker business card holders (name card pocket), plastic sticker CD/DVD sleeves (CD-DVD envelopes), self adhesive EVA CD holders (CD Foam button) and PVC vacuum CD spiders.
---
Tags: plastic name card pocket, business card pocket, self adhesive name card pocket, sticker business card pocket, transparent card holder, semi transparent name card holder, pvc, pp, polypropylene, catalogue, broshure, file, folder, cover...